Post by BVADMIN on Mar 7, 2019 22:28:02 GMT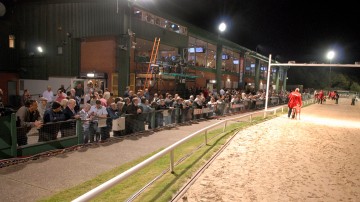 Nottingham has set a limit on the number of Derby runners
Nottingham to cap Derby field at 192.....
BY JONATHAN KAY
NOTTINGHAM has decided to cap entries for the £100,000 Star Sports, Arc & LPS Derby at the 'perfect' figure of 192, allowing 36 first-round heats from which three greyhounds qualify.

"We could have coped with up to 216 with the kennelling space we have," explained Nottingham managing director Rachel Corden yesterday, "but I think people prefer a competition where three are guaranteed to qualify from each heat so we settled on 192 – whether we get that number anyway remains to be seen.

"The intention is to have up to 16 heats each night on the first Friday and Saturday [May 24/25] and we will be offering dual kennelling times as normal. By keeping it to two nights it's fairer on everyone who has to get here, with two trips the most they will need to make."

Should more than 192 entries be received then a reserve list will be drawn up in order of merit, with greyhounds on it receiving a refund of the £250 entry fee if they do not get a run in the Classic.

The move mirrors the past two years at Towcester where an informal arrangement was in place, but Nottingham has moved to avoid any confusion by enshrining it in the race conditions which appear in the latest GBGB Calendar along with an official entry form.

Corden revealed that the restaurant has already sold out for Derby final night on Saturday, June 29 although availability remains for the paddock marquee. "We've had a tremendous response since we started selling tickets and packages, particularly from Ireland and Scotland," she said. "It looks as though there's going to be quite an invasion!"

The latest GBGB Calendar also has details of the races which will support the main event – there are four Category Two competitions, all worth £3,000 to the winners and all for 18 runners, starting on semi-final night.

RPGTV sponsors the Derby Plate over 500m for early eliminations from the Derby, while there is a puppy event over the trip plus a 680m stayers' competition.

Supporting one-offs on final night are classed as invitations and will be worth £750 to winners over the full range of distances, including the Terry Corden Memorial Anglo-Irish Invitation over 500m commemorating Corden's late father, the former track promoter, who had strong links with Ireland. "I'm sure he would have approved of that," she joked.