Post by SALFORD GIRL on Nov 25, 2019 19:55:44 GMT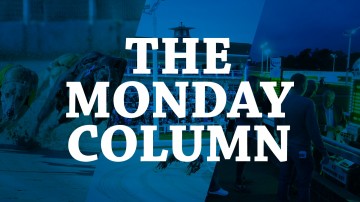 Leger fun shows the passion is still there.....
BY JIM CREMIN OF THE RACING POST
TWO St Legers in a week for me, taking in Limerick on Saturday (550 yards) after Perry Barr's (710m) the weekend before.

With both events going to north Kerry-based winners and staged before enthusiastic crowds with plenty of families in evidence, the words of Frank Nyhan, chairman of the Irish Greyhound Board in Saturday's Limerick racecard are justified.

He wrote: "It has not been an easy time for us. However, events like this year's Leger – driven by the wonderful support of the greyhound fraternity – show there are still green shoots to be positive and excited about for our industry . . . our challenge is to pass on the sport to future generations."

With next Saturday's Night of Stars at Shelbourne building up to a real crescendo, November is proving a month to remember.

The Christmas Party season is already in full swing in Ireland – Limerick looked the part on Saturday, beautifully decorated and with festive songs, mulled wine, turkey and Christmas pudding all being enjoyed.

However, one likely Scrooge ahead will be Indecon, due to finalise its economic report next month and then present it to the IGB before Christmas. It is expected to make for uncomfortable reading with several tracks believed to be under close scrutiny.

However, among those who believe that greyhound racing still has real appeal is Sandra Gilmartin (Paddy Power, Coventry), the new Racing Post/SIS Betting Shop Manager of the Year. She made the Birmingham Leger presentation on behalf of RPGTV.

Her view is that the sport has taken a markedly higher profile in her shop since the restrictions were imposed on gaming machines. "It's attractive because it's quick and easy. Perry Barr has been wonderful, an Irish winner, a great buzz and really good to see so many young people."

She said she had read up on the sport and was impressed by the work the Greyhound Board was doing around rehoming and reducing the costs in this area. "It's important to make that as easy as possible for all involved," she said.

Similarly Brendan Maunsell, trainer of Redzer Ardfert, the Perry Barr champion and Night of Stars-bound, would prefer if his local track Tralee operated its own retirement branch with kennels that the nearby community could visit. However, the Irish Greyhound Board will, initially at least, seek a more centralised option.

Maunsell's own kennels, in Abbeydorney, Kerry, are also part of a busy dairy farm. He has a couple of litters, both of nine-week-old pups – learning about life alongside his select team of racers. Those include Cash Is King, fourth in Saturday's Irish Leger – incidentally a litter brother to Dave Mullins' Troy Bella.

Thinking of Maunsell's point about getting people visiting kennels, one imagines a scheme that involves local schoolkids. Anyone who sees pups would be fascinated. Greyhounds in general make great adverts in themselves, being such gentle, happy and empathic creatures in their home environment. It's a hidden secret.

I remember once as a youngster, going to an open day at the old Northaw Kennels near Potters Bar. It was magical; you never forget it.

Liam Dowling, 'down the road' from Maunsell, landed the Friends Of Limerick Leger with Ballymac Anton and longer-term plans are to bring him to Nottingham's Derby next year – along with Ballymac Tas, runner-up there this year. She herself has a three-week-old litter of six, three dogs and three bitches, to Farloe Blitz.

Dowling explained Tas is a brilliant mum and there's sure to be great interest in her pups.

I don't think I've seen ever seen him quite so excited. Winning the Leger meant so much to him.

Indeed Maunsell had earlier talked of making evening racing special again and fears SIS racing is something of a distraction. "Ensuring competitive fields for betting shop racing seems to have superseded staging quality racing on normal weekend nights – and that's the core of what the sport is in Ireland, families often with their own greyhounds going racing and dreaming of a big event," he said.

It's the pups that people like Dowling and Maunsell produce which are our rocket fuel.